TV Ad Film Making Details
TV ad on Chennai Silk Palace was team work associating with senior director and cinematographer in south industry. Our team was a part in handling the production and post-production works. TV Ad Film was targeting international audience in Malaysia. PRODUCTION TEAM: Creative Director, Concept Creator, Script Writer, Storyboard Artist, Director, Assistant Directors, Cinematographer, Costume Designer, Art director, Lighting Technicians, Post-production- Editing, DI, Sounds & Dubbing, CG and VFX.
Pre Production
Our concept creator will craft the emotional script with brand strategies. Our storyboard artist creates the visual presentation for the script from scene-by-scene to embrace the complete story-telling experience. The art director provides relevant information like the artistic elements to use in the shooting spot.
TV Ad Film Production
Chennai Silk Palace approached to commercialize their products mainly on Television. The client requirement is to embrace their brand as they are weaving their own silk Sarees. Hence, the suitable artist and perfect jingle with traditional connect makes this ad successful in the market. Our well-experienced cinematographer captures the shots with the help of our director.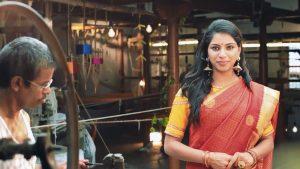 Post Production
This jingle-based ad requires the perfect background music. Our post-production team enhances the video with the proper editing, suitable sounds, and special effects.
PROJECT DURATION:
> 15days.
PROJECT COST: Get a quote
FILMYADS is a Chennai-based Ad Film Company producing television ads (TV Ads), Theatre Ads, and Commercial Films. You need not run behind VFX studio or post-production company since we have in house capability for
post-production
services We promote brands, their marketing activity for an organization with a unique emotional connect. Our experienced staff can ensure that the entire filmmaking process runs smoothly and can help with everything you need through different production phases. We adapt to the needs of every client and build an innovative emotional connection to provoke the audience.
Watchtop advertising firm Video